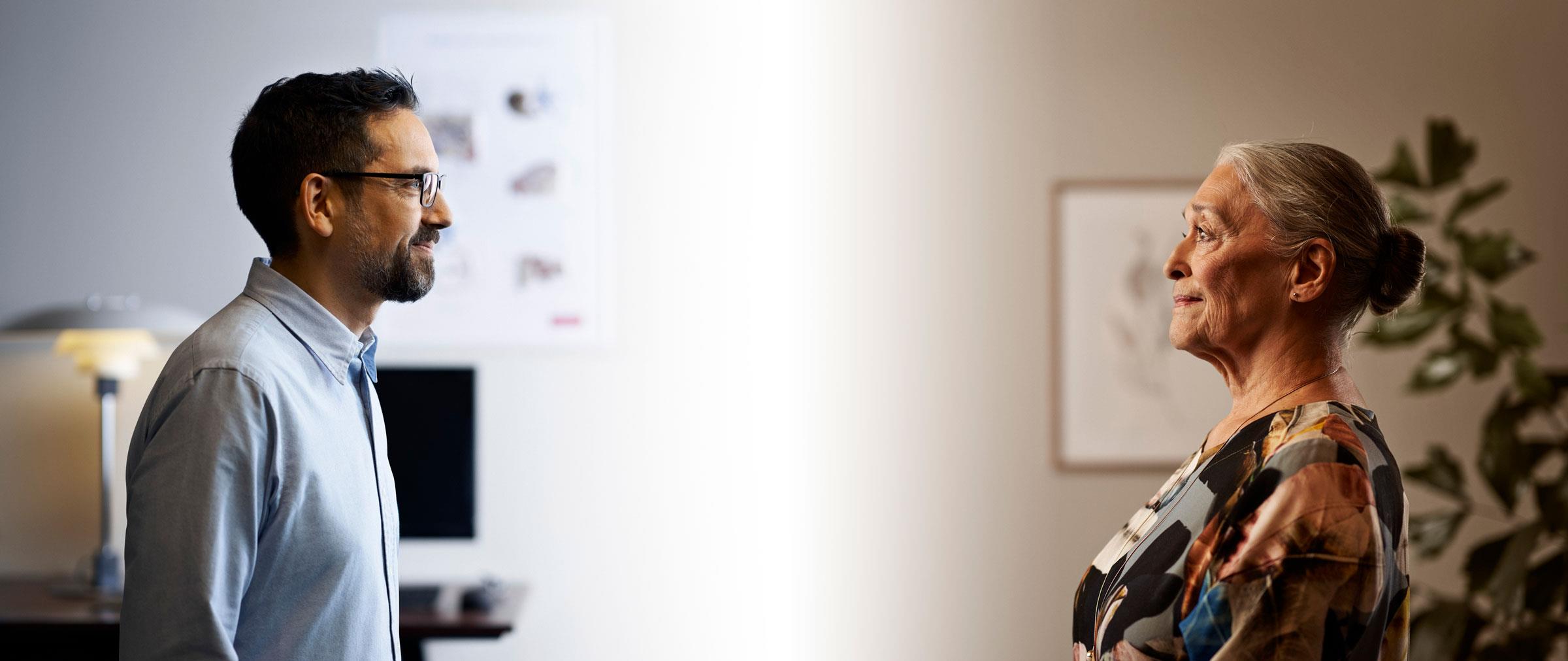 BALLERUP, Denmark – April 23, 2020 – GN Hearing, the global leader in hearing aid technology, today announces new in-ear tests (also called in-situ tests) available as an extension to ReSound Assist Live at-home services. The technology allows hearing care professionals to offer complete hearing care remotely, including hearing assessment and hearing aid fitting. It allows people with hearing loss to get their hearing tested from the comfort and safety of home. This cutting-edge technology comes at a time when many elderly people who could benefit from hearing care are urged to stay at home during the COVID-19 pandemic, and when hearing care professionals are discovering new ways to serve these people now and in the future.

At-home in-ear testing is made possible through ReSound Assist Live, a real-time, video-enabled remote hearing care service launched earlier this month. It gives hearing care professionals the ability to offer the broadest range of services to those unable to visit their clinic. Now, hearing care professionals can send a trial set of hearing aids directly to a person's home. With remote support, a hearing assessment can then be conducted, and new hearing aids can be immediately fitted and fine-tuned, ensuring the best possible individualized sound. When possible, people should follow up with an in-clinic consultation with their hearing care professional.

"COVID-19 should not stop people from seeking advice or care from a hearing care professional," says Gitte Aabo, CEO and President of GN Hearing. "We recognize that the current circumstances accelerate the need for hearing care professionals to complement their in-clinic services with agile, innovative remote care. ReSound Assist Live with in-ear tests will make it easier for people who could benefit from hearing aids, but cannot physically seek out hearing care, to get help in new ways. We will continue to support hearing care professionals with tools like this that deliver individualized customer experiences and help them shape their practices today and into the future."

COVID-19 has, in a matter of days, demanded that healthcare goes virtual and offers remote access. Now, telemedicine makes it possible for people to remain inside their homes whilst seeking the best possible care. Results from a recent survey show that 94% of hearing care professionals who have tried ReSound Assist recognize that it allows them to deliver a better hearing experience and 89% said they would recommend this service to others.1

ReSound Assist Live with in-ear tests is available to people with hearing loss, whether they are a current or first-time hearing aid user. It is available on April 23 in the United States, Australia, New Zealand, Singapore, Malaysia and the United Kingdom, and globally from May 1.
This is the second at-home test option introduced by GN Hearing this month. In early April, the company announced a U.S. collaboration with hearX, a digital health care company focused on mobile hearing screening, testing and video otoscopy.
For further information, please contact:

Press and the media
Marie Schleimann Nordlund
Head of PR, Media and Communication
Tel: +45 45 75 14 94
Lars Otto Andersen-Lange
Head of Media Relations & Corporate Public Affairs
Tel: +45 45 75 02 55
Morten Toft
VP – Investor Relations & Treasury
Tel: +45 45 75 46 07

Rune Sandager
Senior Manager – Investor Relations
Tel: +45 45 75 92 57
NOTES TO EDITORS
ReSound Assist Live enables individualized care from anywhere
New ReSound Assist Live is an extension of the existing ReSound Assist remote fine-tuning services and can be accessed via video call on the ReSound Smart 3D app. It is the only fitting software which offers comprehensive live video and remote adjustments. Combined with in-ear tests, people and their hearing care professionals can assess hearing needs at home for complete services – a solution shaping hearing care today and in the future.

ReSound Assist already lets people receive adjustments to their hearing aids remotely, but ReSound Assist Live goes further, enabling them to speak directly to their hearing care professional over a live link. This means they can benefit from instant access to the highest level of care at a convenient time and place.

In the United States, hearing care professionals should consult local regulations and resources for additional guidance on the use of telehealth in their state.
About ReSound
ReSound hearing aids, available from leading hearing care professionals, have set worldwide standards for quality and intuitive technology. ReSound was the first hearing aid brand to be Made for iPhone and pioneered the development of 2.4 GHz wireless technology. The introduction of the sixth generation of this technology with ReSound LiNX Quattro™ demonstrates that ReSound is the absolute leader in the industry. Featuring award winning technology, ReSound has been trusted for decades by people with hearing loss and their caregivers around the world.

About GN Group
The GN Group enables people to Hear More, Do More and Be More through its intelligent hearing, audio and video collaboration solutions. Inspired by people and driven by our innovation leadership, we leverage technological synergies between our hearing and audio divisions to deliver unique and increasingly individualized user experiences in our products and solutions.
150 years ago, GN was founded with a truly innovative and global mindset. Today, we honor that legacy with world-leading expertise in the human ear, sound and video processing, wireless technology, miniaturization and collaborations with leading technology partners. GN's solutions are marketed by the brands ReSound, Beltone, Interton, Jabra, BlueParrott and FalCom in 100 countries. Founded in 1869, the GN Group employs 6,500 people and is listed on Nasdaq Copenhagen (GN.CO).
© 2020 GN Hearing A/S. All rights reserved. ReSound is a trademark of GN Hearing A/S.

1. Survey: Interviews with 31 hearing care professionals in 11 countries, who have used ReSound Assist 10 times or more.