ReSound ENZO Q™
Power plus performance
The complete hearing solution for severe-to-profound hearing loss
Crystal clear, comfortable, high-quality sound
More options for connectivity and direct streaming
Personalize to suit your preferences
Convenient remote and real-time support
Perfectly complements Cochlear™ implants
Crystal clear, comfortable, high-quality sound

Even greater connectivity and direct streaming

Fully personalizable to suit your preferences

Convenient remote and real-time support

Perfectly complements Cochlear™ implants
ReSound ENZO Q provides more than just the power you need. It brings together the connectivity, support and personalization you want for the best hearing experience in any environment.
Uncomfortable sounds made comfortable
High levels of amplification can be a benefit to help you feel connected in your surroundings, but unpleasant when unwanted noises are loud and distracting.
ReSound ENZO Q strikes the right balance. It detects your environments and automatically adjusts volume and noise settings to just-right levels. Distracting background sounds like running water or the din of traffic become comfortable, yet still audible.
Our technology also takes the edge off particularly loud, jarring sounds, such as keys dropped on a table or audience applause. In fact, 89% of sudden loud sounds are made more comfortable with ReSound hearing aids.
Direct streaming and greater connectivity
Stream directly from both iOS and Android™ devices* to your hearing aids and enjoy crystal clear, comfortable, high-quality sound. Talking on the phone, watching TV, or listening to music, it's as simple as using wireless stereo headphones.
When streaming to ReSound hearing aids, you can understand 50% more of the conversation on average**, compared to a regular phone call. The telecoil in ReSound ENZO Q also enables you to connect to loop sound systems and get amplified sounds delivered directly to your hearing aids in public spaces, such as museums, live venues, lectures or theatres.
*Full streaming compatibility with Android devices requires minimum Android v10 and Bluetooth 5.0 and that functionality has been enabled by the phone manufacturer and service carrier. ReSound cannot guarantee full compatibility with all Android devices.
**Jespersen & Kirkwood, 2015.
Personalize to suit your preferences
You set the pace with ReSound ENZO Q hearing aids. They automatically adjust to your sound environment, but you can personalize the details of your hearing experience even further with the ReSound Smart 3D™ app, directly from your phone.
The app places real-time control right at your fingertips. Swipe and select a range of programs and optimize sounds, such as speech focus and noise reduction, to suit your current location.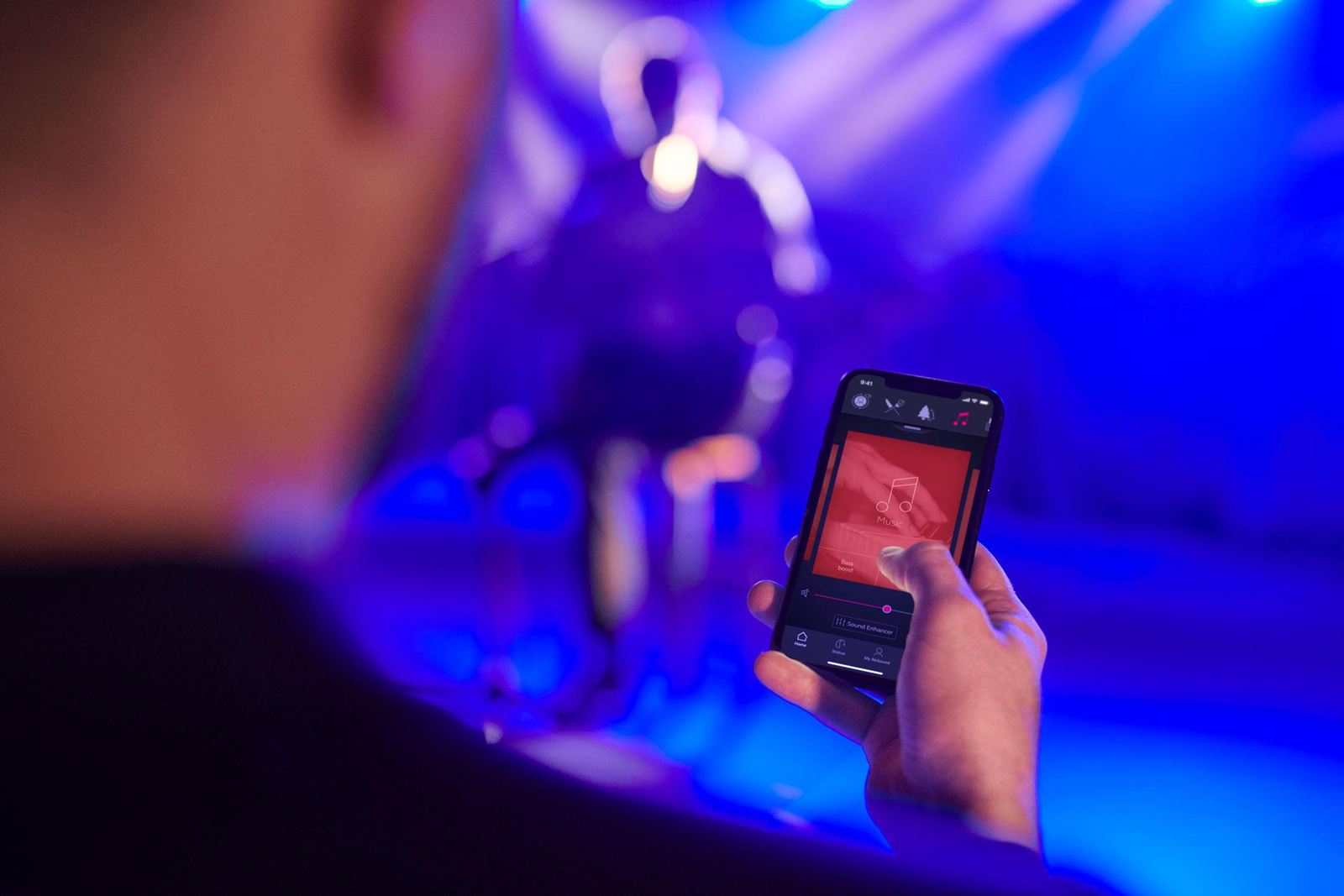 New ReSound Assist Live Assistance
Have face-to-face fitting sessions from the comfort of your own home. ReSound Assist Live Assistance allows you to meet with your hearing care professional through a video call for fine-tuning adjustments.
Perfectly complements Cochlear™ implants
ReSound and Cochlear share wireless technology, so you can stream directly to your Cochlear implant and ReSound hearing aid simultaneously from a compatible iOS or Android device, or from a range of wireless accessories.* With more sound to both ears and superior sound quality compared to using a cochlear implant alone1, you can take phone calls, enjoy your favorite music or TV series, or chat more easily with someone at a noisy restaurant2.
Download information and watch hearing aid video tutorials in our Support & Care area.
Find a hearing care professional
You deserve the best hearing aid for severe hearing loss and profound hearing loss: ReSound ENZO Q. Take the next step by finding your local expert and booking an appointment.