The world's first Premium-Plus hearing aid: ReSound LiNX Quattro™ from GN Hearing has won the Good Design Award 2018 (organized by Japan Institute of Design Promotion). Because of its design that gives users the opportunity to regain what they had lost and to engage confidently in their environment with an easy to use and discrete solution, ReSound LiNX Quattro was highly appreciated as " an excellent design to suggest further possibilities in hearing aids. ".
With the winning of this award, ReSound hope more people know this richer sound quality, unrivalled streaming, anytime personalization and unique support as well as intuitive rechargeability. ReSound LiNX Quattro tackles known challenges for hearing impaired in new and profoundly life-enhancing ways, making the hearing aid easier and more intuitive to use, removing the pain of fiddling with small batteries and enabling the users to not only adjust the hearing aids through their smartphones, but also to contact their hearing care professional directly through the app and get adjustments to their hearing aids remotely.
Not only did this design bring the concept of smart hearing to the next level, but it helped solve user core pains. In addition, ReSound created exceptional streaming experience and made it possible to open up for more sounds than ever before. With the user friendly, intuitive and esthetically design, based on the known user pains, ReSound enables users to regain confidence and support their wish to live a 'normal life'.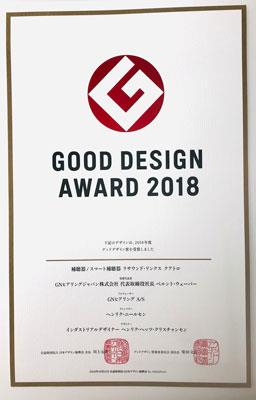 Comments from Judges;
For the rich and delicate sound quality, the advanced hearing aid that not only the user's own operation but also the remote fine-tuning support via the cloud technology is well combined. In addition to that various functions are condensed in the small product, 14 colors are provided and it is also attractive to suggest values to show and enjoy hearing aids. It is an excellent design to propose further possibilities in hearing aids.

Good Design Award Online Gallery
http://www.g-mark.org/award/describe/47123?token=1A8JYGCqDt


Good Design Award
Good Design Award has been a sole comprehensive design evaluation and commendation system in Japan since 1957. Many companies and designers from both inside and outside of Japan participate in the activity to enhance the industry or the quality of life through the design. "G Mark", the symbol of the award has been recognized widely as a mark representing good design.


For further information, please visit resound.com/quattro or contact:

Press and the media
Hitomi Noguchi
Marketing Manager, GN Hearing Japan K.K.
Tel: +81 45 277 1165
Email: hnoguchi@gnresound.com