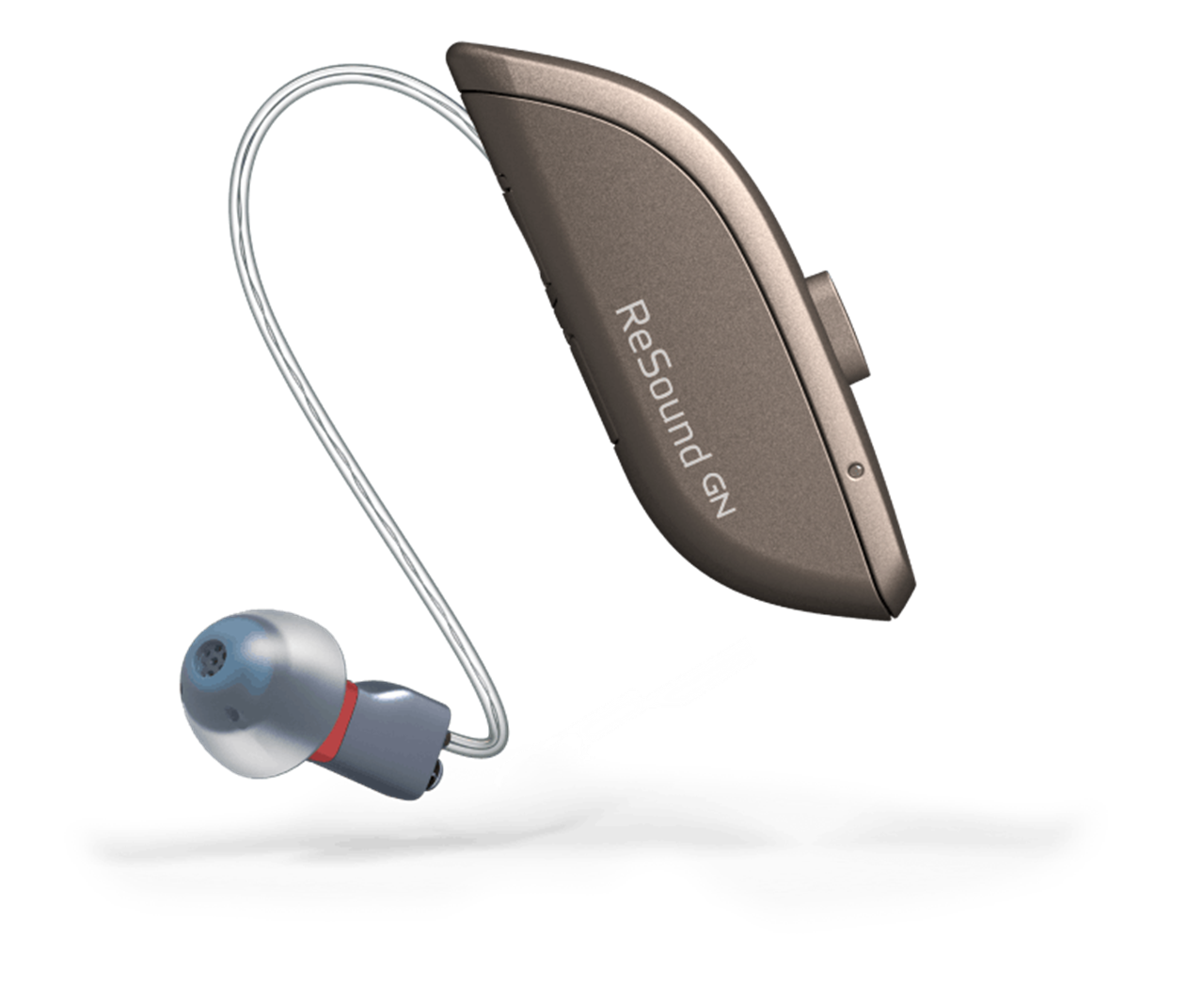 ReSound ONE
Hear like no other
Just like a fingerprint, your hearing is one of a kind. Now you can experience truly individualised, natural, and more complete sound with an extra microphone placed in your ear canal.  We call it M&RIE. It uses your own ears to deliver the sound.
The one you've been waiting for is finally here
Swipe to explore
Scroll to explore
Get a taste of what to expect with the new ReSound ONE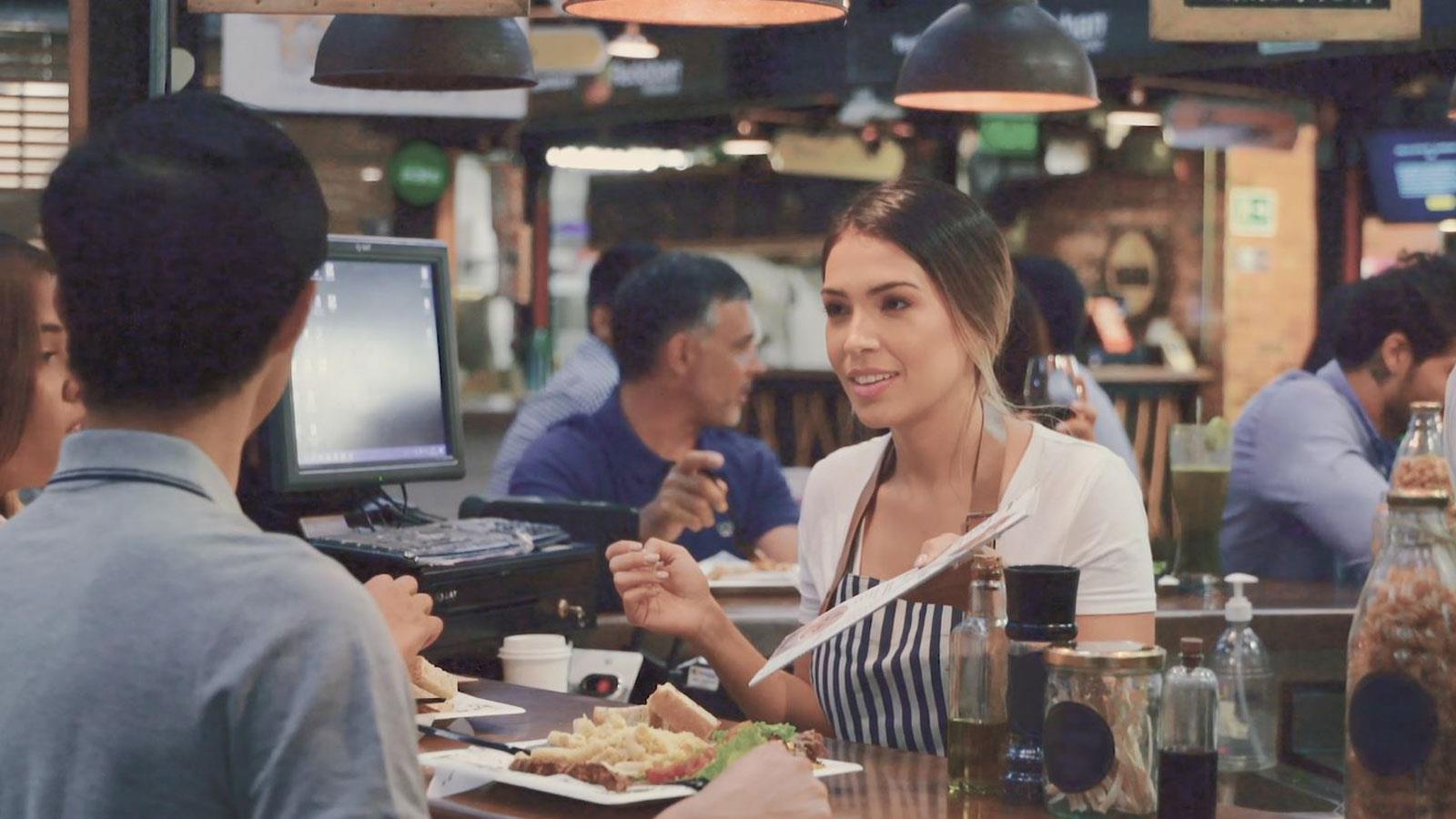 See for yourself
Find a hearing care professional near you and get a first-hand impression of ReSound ONE
New Design
Designed to meet your individual needs
Hear the world with your own ears 

Greater hearing wherever you are

Focus in on speech in front of you 

Live assistance from your home
M&RIE
Our most natural sound quality
Get the truest sense of space and easily locate sounds with M&RIE, a Microphone & Receiver-In-Ear design. Our one-of-a-kind hearing aid enriches your daily sound environments with direction and depth.
Meet M&RIE

The microphone and receiver in your ear use your unique ear shape to collect sound the way nature intended.

Speech clarity in wind noise

Watch the video and get a feel of how ReSound ONE™ enables better speech understanding in a windy situation.

Windy walk with and without M&RIE

The microphone in your ear lets you enjoy the natural sounds of your surroundings without overpowering wind noise. Hear the difference.

In a restaurant

Sample the sound difference when using ReSound ONE with M&RIE in a bustling restaurant setting.
All Access Directionality
Hear your best in any environment
All Access Directionality automatically adjusts to your listening patterns, so you can feel at ease and engage effortlessly with others, even in noisy, challenging, and changing listening situations.
Ultra Focus
One-to-one hearing in the toughest environments
Talking to someone

See how activating Ultra Focus helps you hear speech with ease, even in noise, without being isolated from your surroundings.

Background noise

Focus in on life and feel confident enough to have conversations in situations you might have avoided in the past, like at a service counter in a crowded place.
Do you think you might have hearing loss?
Check your hearing with our quick, easy and free online hearing test.
Connectivity
Connect to what connects you
The unmatched connectivity of ReSound ONE connects you to phones and tablets so you can communicate your way.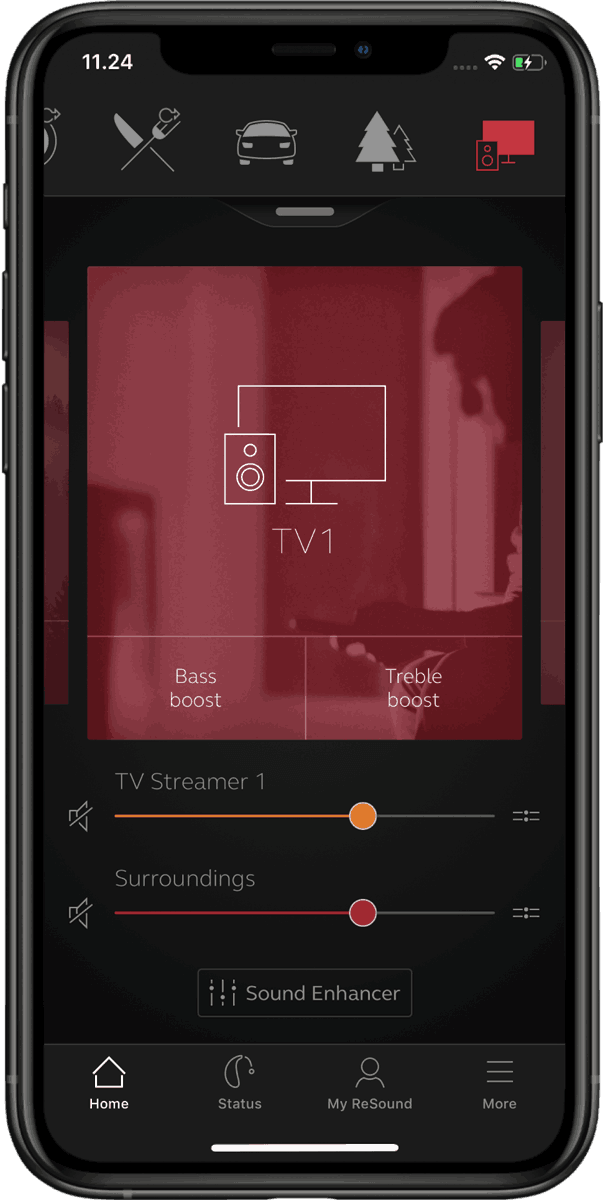 Connect to your TV
A versatile range of wireless accessories give you even more options to connect to the sounds you enjoy every day. For instance, connect to your TV and get the sounds of your favourite shows directly in your hearing aids.
Stay connected without lifting a finger
With ReSound ONE, you can connect directly to your iPhone or Android™ smartphone and the world around you, and stream audio and wireless calls to your ears via the stable Bluetooth® Low Energy.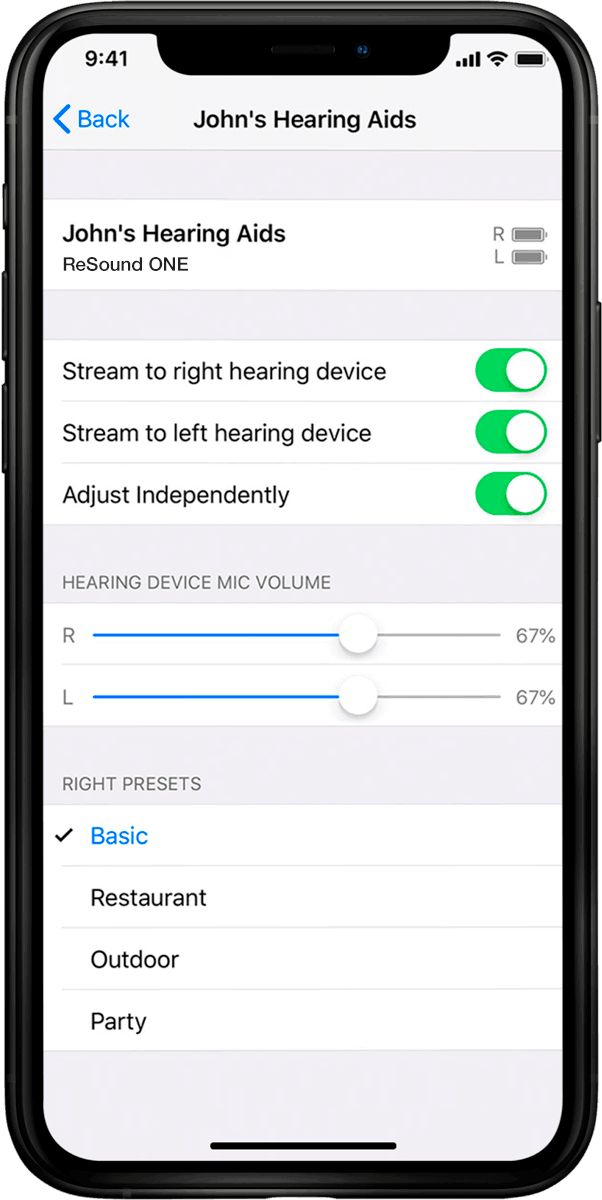 Rechargeability
All the power you need. Again and again and again.
Premium charger

A stylish powerbank to match your ReSound ONE, with up to three days of quick charging on the go. No power outlet needed. Enjoy life without worrying about batteries.

Easy charging check

When placed in the charging case, LED lights indicate the battery status of both the hearing aids and the portable charging case.

Looks good anywhere

Wherever you take it or place it – in a travel bag or on a desk – the charger will look elegant and discreet and protect and power your ReSound ONE.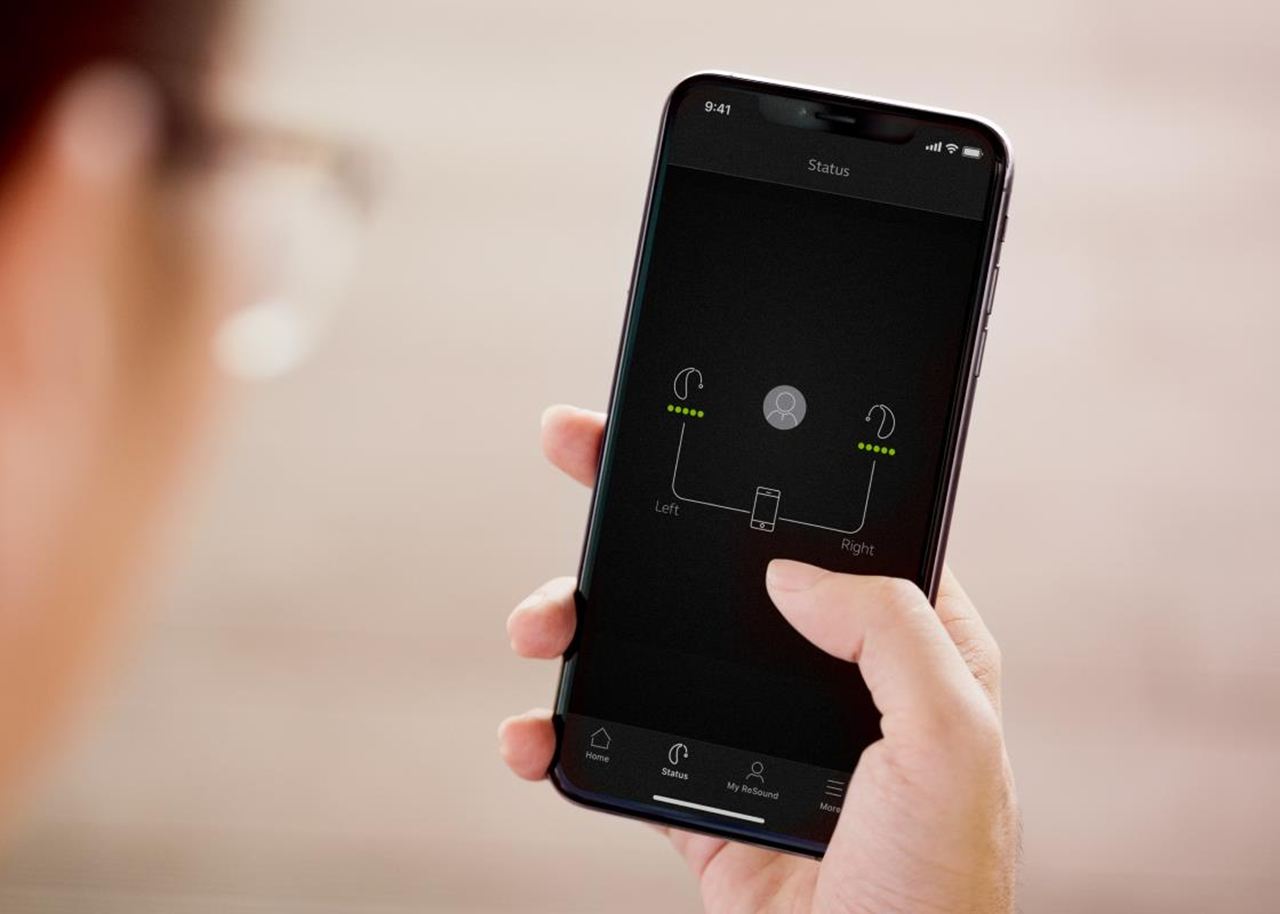 Experience ReSound ONE live
Get a first-hand look at the convenience and style of the premium charger
Sound Philosophy
Organic hearing
The ReSound Organic Hearing philosophy enables people to connect to the world around them in the most intuitive and natural way. We achieve this by developing solutions that work with the individual ear anatomy to more closely mimic how sounds in the environment are naturally collected and delivered to the brain. This philosophy drives our history of innovations that deliver the whole sound picture so users can instinctively select the sounds they want to listen to - and tone down the ones they don't.
New colours
Discover your style
New colours
Discover your style
New colours
Discover your style
New colours
Discover your style
New colours
Discover your style
New colours
Discover your style
New colours
Discover your style
New colours
Discover your style
ReSound Assist & ReSound Assist Live
Help at your fingertips
Hearing care without leaving your home

Get your hearing aids sent to your door by your hearing care professional and at-home care in video consultations. You can enjoy personalised care from the comfort and safety of your own home or wherever it suits you. It's as easy as answering a video call on your phone.

Remote fine-tuning

At your appointment, you and your hearing care professional will adjust and fine-tune your hearing aids, making sure they match your needs. The video and guide below helps you prepare for your first ReSound Assist Live video appointment.
Awards
A new golden age in hearing
ReSound ONE wins the prestigious 2020 Gold Stevie Award for Health and Pharmaceuticals. The hearing aids deliver a unique approach to natural sound based on Organic Hearing, using each person's own ear anatomy for an individualised, more complete sound experience, just as nature intended.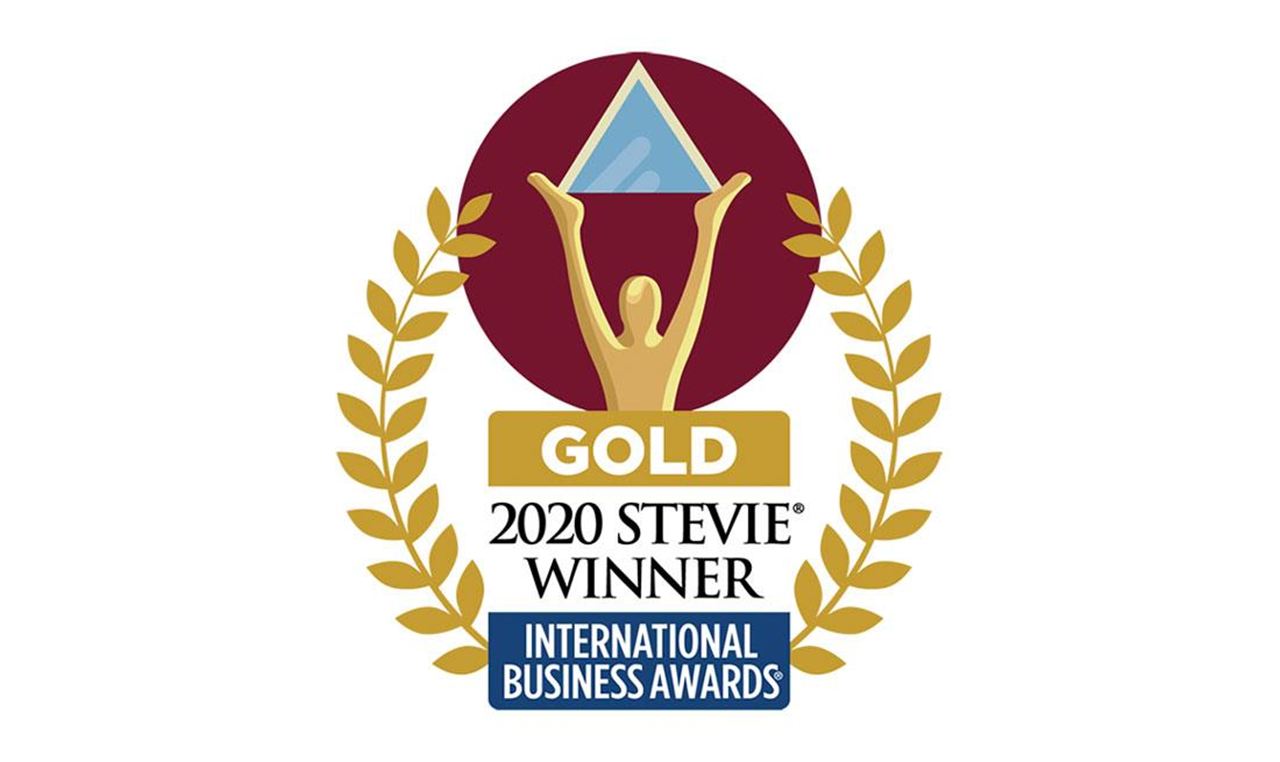 Testimonial
Experiencing ReSound ONE
Ray Weaver, a 64-year-old American living in Denmark, is passionate about everything that has to do with music, words and books. Ray uses ReSound ONE™, which has brought him "back in the world".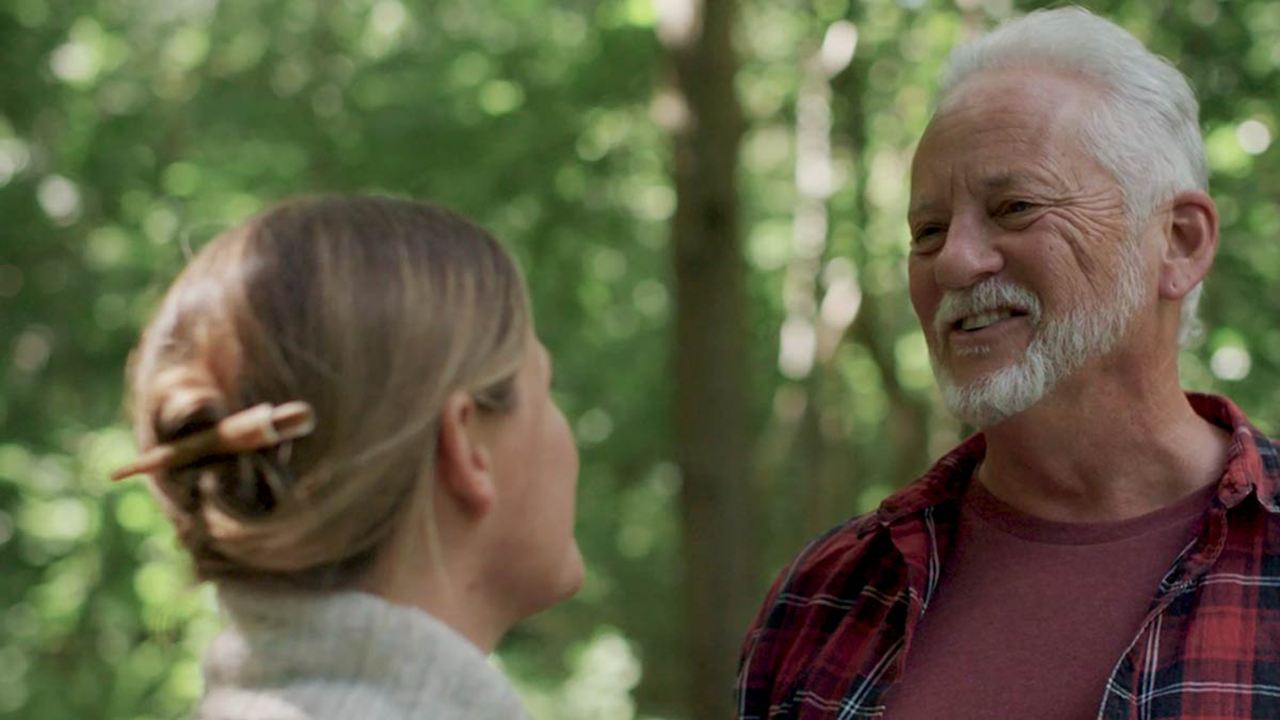 Experience ReSound ONE live
Get a first-hand look at the convenience and style of the premium charger